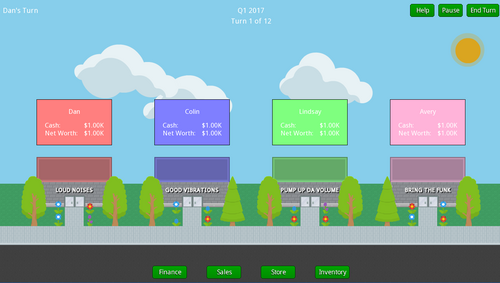 Hi everyone! I just wanted to give people a quick heads up about a balance tweak I made, since it does affect gameplay a fair amount.
The issue was that because the MSRP for a product was always twice its cost, and deviations from MSRP are part of how base sales get calculated. As a result, always buying more expensive products was somewhat of a dominant strategy, especially in the early game. Since there's always some minimum base level of sales you get even for a poor product / market match, it was just way too easy to make money that way.
The fix I put in place turns down the MSRP for products as they get more expensive. For example, for a product with a $20 cost, now instead of having an MSRP of $40, it has a value more in the range of $30. That should hopefully create a more interesting risk / reward scenario now - you can make a little more per sale with more expensive products, but your percent margin is lower, making it easier to get stuck with a large pile of expensive inventory.
These changes seemed to improve things in the testing I've done, but I may make more tweaks as time goes on. Let me know if you have any feedback!
Files
questionable-markup-windows32.zip
46 MB
questionable-markup-windows64.zip
46 MB
questionable-markup-osx.zip
45 MB
questionable-markup-linux32.zip
50 MB
questionable-markup-linux64.zip
49 MB